ChlorKing
Rely on ChlorKing's® advanced clean-water technology to give your commercial swimming pools, spas, Jacuzzis, and water parks the most cost-effective, safest water sanitization system available.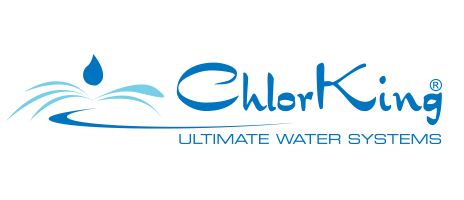 ChlorKing's patented, heavy-duty NEXGENpH on-site batch chlorine generation, CHLOR SM salt chlorination, and SENTRY Aqua Guard ultraviolet light (UV) systems keep your water clean and lower your annual operating costs substantially. Eliminating the need to handle toxic chlorine can eliminate the dangers of fire or the creation of dangerous gases caused by mishandling chlorine and muriatic acid. Eliminating chlorine storage eliminates the cost of building special storage facilities and the need for deliveries in special trucks during limited hours.
Founded in South Africa in the 1970s, ChlorKing has become a worldwide innovator in on-site chlorine generation. On-site hypochlorite generation technology, also known as saline chlorination, has a proven track record for swimming pool chlorination and water treatment. Adding a mild saline solution to pool water results in a salt concentration of only 0.35 to 0.5 %, which is 10% of the concentration of seawater.
Chemical Equipment & UV Systems from ChlorKing:
Equipment Supply & Maintenance Programs from ChlorKing:
Trade a large capital outlay for a fixed monthly payment with ChlorKing's® 36- and 60-month Equipment Supply & Maintenance Programs. They cover the cost and installation of the equipment and repair parts and labor for the life of the contract. You'll get the latest technology and a saline-based system that is less expensive and safer to operate than systems using straight chlorine. You just need to provide the salt for your equipment.
When your agreement ends, you can buy the equipment in place for $1 – or follow the lead of 90% of program participants who install a brand-new system for the next 36 or 60 months. We can offer you a financially attractive 60-month program because ChlorKing and Streamline Aquatics are so confident your systems will perform at the highest level of reliability for the life of the contract.