ChlorKing
Rely on ChlorKing's® advanced clean-water technology to give your commercial swimming pools, spas, Jacuzzis, and water parks the most cost-effective, safest water sanitization system available.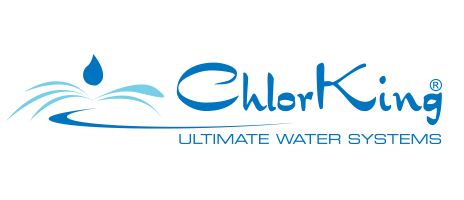 ChlorKing's patented, heavy-duty NEXGENpH on-site batch chlorine generation, CHLOR SM salt chlorination, and SENTRY Aqua Guard ultraviolet light (UV) systems keep your water clean and lower your annual operating costs substantially. Eliminating the need to handle toxic chlorine can eliminate the dangers of fire or the creation of dangerous gases caused by mishandling chlorine and muriatic acid. Eliminating chlorine storage eliminates the cost of building special storage facilities and the need for deliveries in special trucks during limited hours.
Founded in South Africa in the 1970s, ChlorKing has become a worldwide innovator in on-site chlorine generation. On-site hypochlorite generation technology, also known as saline chlorination, has a proven track record for swimming pool chlorination and water treatment. Adding a mild saline solution to pool water results in a salt concentration of only 0.35 to 0.5 %, which is 10% of the concentration of seawater.
Chemical Equipment & UV Systems from ChlorKing:
Commercial Saline Chlorination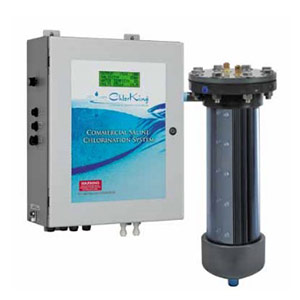 Converting your swimming pool to a CHLOR SM saline-based chlorination system is a wise move. Saline chlorination utilizes technology, rather than using traditional chlorine, to sanitize your swimming pool water. It's a safer, more cost-effective and environmentally friendly solution. ChlorKing®'s patented system is simple, easy to use, and will provide years of trouble-free operation ensuring your pool water remains well sanitized and sparkling clear.
ChlorKing offers three unique salt chlorination systems to fit any commercial pool or spa:
The MINI-reverse polarity series offers a compact water-cooled power supply for low maintenance and is available in three different models up to 5 lbs per day.
The CHLOR-reverse polarity series offers a water-cooled power supply for low maintenance and is available from 7.5 to 25 lbs per day.
The CLASSIC-forward polarity series offers a more cost-effective solution, featuring a water-cooled power supply, and is designed for facilities or operators able to provide a low level of maintenance required to the clean the cell on a weekly basis. A lower price makes this series specifically attractive for pool management companies or owner/operator facilities. Sizes range from 5 to 25 lbs per day in this series.
All models also feature ChlorKing's toroidal salinity control system that monitors the saline level in your pool 24/7 and automatically adds salt to maintain your water's saline levels with no need for operator testing.
High Output Amalgam UV Systems / Sentry UV Light Technology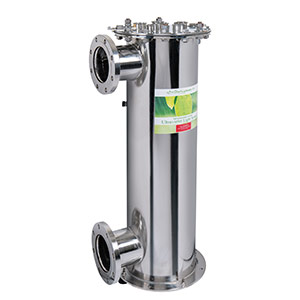 ChlorKing®'s line of SENTRY ultraviolet light (UV) systems offer complete chloramines control for your indoor facility, as well as protection from pathogens such as cryptosporidium, e-coli, etc. SENTRY low-pressure, high-output amalgam systems are designed to treat water from 50 – 1,600gpm (model specific) at a fraction of the cost of higher-priced medium-pressure systems. All models operate at 120v with a maximum of 12amps, and lamps are rated for 13,000 hours (more than twice as long as comparable medium-pressure systems).
SENTRY ultraviolet light systems offer another unique benefit when using ChlorKing's dual output lamp technology: While UV is being produced at 254nm, ozone is also being produced at 185nm, adding to the sanitization of the water flowing through the chamber. This additional sanitizer helps reduce the amount of chlorine a pool or spa requires.
NEX-GEN On-Site Chlorine Generators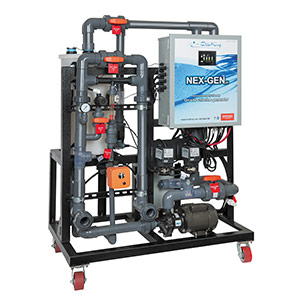 ChlorKing® NEX-GENpH chlorine generator systems are designed specifically for commercial swimming pools and water parks. Ranging in sizes to produce 5 – 80 lbs per day, their unique design, simplicity and ease-of-use make them the most viable alternative to traditional chlorine available on the market today.
On-site production of chlorine as a solution of sodium hypochlorite alleviates unnecessary risks associated with bulk chlorine and puts an end to ever increasing chlorine prices and storage issues. The only raw material, salt, is an inert, safe compound that is stored in a feeder on-site and used as required by the chlorine generator. Pool water becomes the raw material for production, instead of fresh water and water softeners. NEXGEN systems produce pH-neutral chlorine for a more stable, effective chlorine to treat your swimming pool or water park.
Equipment Supply & Maintenance Programs from ChlorKing:
Trade a large capital outlay for a fixed monthly payment with ChlorKing's® 36- and 60-month Equipment Supply & Maintenance Programs. They cover the cost and installation of the equipment and repair parts and labor for the life of the contract. You'll get the latest technology and a saline-based system that is less expensive and safer to operate than systems using straight chlorine. You just need to provide the salt for your equipment.
When your agreement ends, you can buy the equipment in place for $1 – or follow the lead of 90% of program participants who install a brand-new system for the next 36 or 60 months. We can offer you a financially attractive 60-month program because ChlorKing and Streamline Aquatics are so confident your systems will perform at the highest level of reliability for the life of the contract.