HYPOGEN On-Site Hypochlorous Acid Generator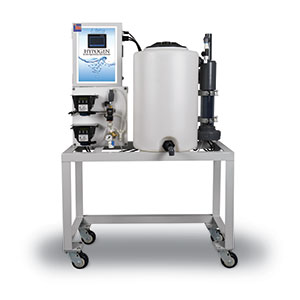 It's game over for bacteria and viruses with the ChlorKing® HYPOGEN on-site hypochlorous acid generator. This stand-alone system uses ChlorKing technology with all-natural Neutral Electrolyzed Water (NEW) to safely and efficiently sanitize and disinfect at a rate up to 100 times more powerful than bleach.
The primary component of NEW is hypochlorous acid, the most effective element of chlorine. NEW is pH neutral, super-oxidized water generated by electrolysis of a diluted NaCl solution passing through an electrolytic cell. This process creates large volumes of a gentle, but extremely potent antimicrobial solution capable of rapid reduction of bacteria, viruses, spores, cysts, scale and biofilm.
With the HYPOGEN system, there is no need to monitor for chlorine dioxide residuals, chlorite, or bromates. Plus, the elimination of hazardous chemicals allows you to reduce regulatory paperwork, safety training requirements, safety inspections, and liability exposure.